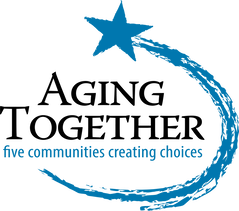 Aging Together is participating as a member of Dementia Friendly Central Virginia to offer businesses and organizations free information sessions and workforce training to establish dementia friendly approaches and implement strategies that will help people living with dementia. We partner with organizations in our region's counties to offer these training sessions. The goal is to help staff of restaurants, retail, banks, dental offices, government agencies, etc. feel more comfortable and capable in helping those living with dementia when they visit the organization.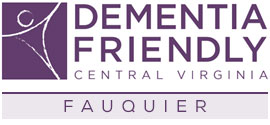 Dementia Friendly Fauquier In partnership with the Fauquier Chamber of Commerce ​& Poet's Walk, Warrenton
Dementia Friendly Fauquier, in partnership with the Fauquier County Chamber of Commerce & Poet's Walk, Warrenton, is intended for any businesses and organizations who interact with the public. Your staff receives help understanding what dementia is, and how to assist someone you may encounter in your business who has dementia. You also encourage visits by caregivers who may wish to bring a loved one with dementia into your business. Traditionally it can be difficult for those living with dementia and their caregivers to participate in their communities because they feel uncomfortable with unexpected behaviors or forgetfulness, and so they have a propensity to stay home. Marketing your organization as dementia friendly offers a mutually beneficial relationship when you welcome and reassure a demographic not always comfortable with public interaction. ​It's a win-win.
Our trained volunteers can provide a 30-minute session for your staff or other group to help your organization become dementia aware. In the session, your group will learn:
Basic facts about Alzheimer's disease and related disorders that cause dementia
10 warning signs of Alzheimer's disease
Tips for communicating and interacting with a person living with dementia
Tips for creating a dementia-friendly physical space and discuss case studies (90 minute sessions only).
In return for participating, Aging Together will provide a window label to publicly identify the organization as dementia friendly, and identify the organization as dementia friendly on the Aging Together website and in other promotional materials.
​Regular training sessions are held either as group staff sessions, or as train-the-trainer sessions. Fauquier trainings are held by our lead volunteer trainer, Gina Mullins.
Scroll down and click on the purple button below to register for available upcoming group training sessions.
​​If your organization is interested in being trained as a Dementia Friendly organization at your own place of business, please contact us at info@agingtogether.org or 540-829-6405 (leave a message and we will get back to you quickly).
Register for a training session in Fauquier